Never lose this important idea or task again: send it by text!
Tired of spending hours on your expense accounts? Send them in seconds by text!
You can receive an SMS directly in the book's email.
Depending on the message, the text message can fill the data of a table in the workspace.
Note: Try it out, it's a great way to track your expenses, write down an idea… especially when you don't have an Internet connection.
Conditions
Have your phone number recorded in your profile.
To which number to send your SMS
From France
From abroad
Belgium: +32 460 200 723
United States: +1-925-297-4514
United Kingdom: +44 1546 840045
Canada : +1-514-500-1103
Send a text message in a workspace
Edit your SMS by first writing the book name, followed by your message:
Book name
Message content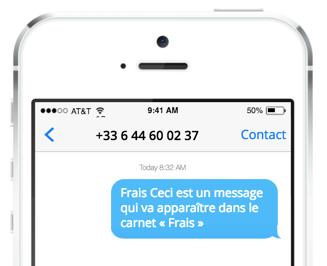 The message automatically arrives in the notebook. A small phone indicates what the message comes from an SMS message:
Note:
Find the exact name of a notebook in the Email and SMS section of this article.