It is possible to share a shareable URL per view to allow a user to enter new records in your table.
Note : this function does not allow to modify an existing record, but only to create new entries in Timetonic.
Allow form sharing
To share a table form, go to the Share option, and click on
Share form :
Blank form options
Form title
Give a title to your form
Description
Describe your form, the description will appear as a subtitle
Logo
Customize your form by adding your logo
Cover
Customize your form by adding a cover image (ideal size 1920:500)
Closing word
Customize the message that appears when the user clicks "save".
Redirect URL
Instead of adding a text as an end word, TimeTonic allows you to redirect the user to a URL when they save their input
Use a column for redirection
Customize the redirection URL with a TimeTonic URL field. Very useful to define a different URL per record
Protection with invisible captcha
Protect your forms from robots by enabling this option
Generate your form
Once your form options are completed, generate your form.
You have 2️⃣ options to share the form :
By sharing the form URL
By copying the code of the embedded form on your website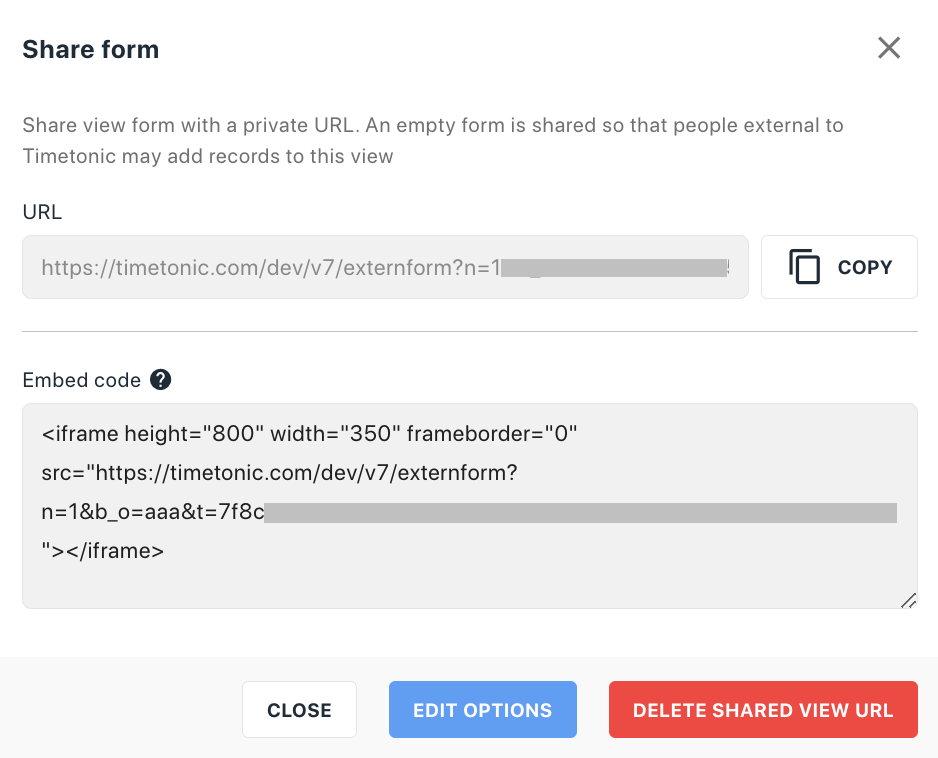 Modify your form
If you want to change your form options, just open the settings, make your changes and save.